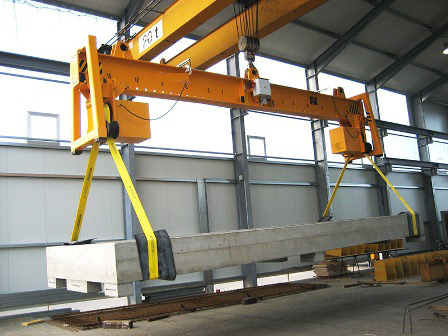 360-degree electric flip crane application in the automotive industry
The 360-degree electric turning crane can be used to turn the whole pallet of goods, plates, stones and other workpieces 180 degrees or 360 degrees. It can be installed in the assembly line, automobile assembly and processing, or can be used with a forklift or a single aircraft. The main purpose is to realize the 180-degree or 360-degree turning of the workpiece. The 360-degree turning machine is composed of turning power mechanism, supporting mechanism, clamping mechanism, turning body and base.
The working principle of electric flipping machine
The 360-degree flipping machine uses a forklift to transport the whole stack of goods to the pending area of ​​the flipping machine, and the clamping mechanism works to fix the goods. The clamping mechanism adopts the form of motor + coupling + screw for positioning. There are 3 movable surfaces among the 6 surfaces, and the motor output torque signal is used to measure the clamping force and achieve accurate positioning. The turning power mechanism and supporting mechanism work to turn the goods over 180 degrees or 360 degrees.
The turning power mechanism of the electric turning crane consists of a motor + coupling + sprocket, which is connected with the upper sprocket of the rotating body through the chain, and rotates to realize the turning of the turning body. The support mechanism includes a fixed roller table and rollers on the body, which play an auxiliary supporting role during the turning process of the turning body, slow down the impact force, and keep the electric turning machine running smoothly. The clamping mechanism is released, and the goods are forklifted out with a forklift, and the 360-degree turning work can be completed.