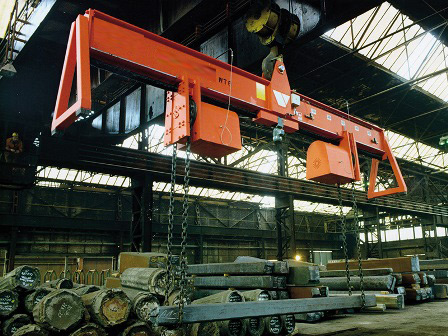 Electric Hoist Double Girder load turning Crane
A load turning crane, its structural form adopts an electric hoist double-girder crane bridge, its lifting method adopts sprocket lifting, and it is characterized in that: two vertical rails are fixed vertically downward on the main beam of the bridge, and the two vertical There is an I-shaped frame composed of two spreader legs and a spanner beam fixed between the rails. The spanner beam is fixed with a chain, and the other end of the chain is fixed on the main beam through the sprocket. . is connected with the hydraulic device on the . The spanner beam is fixed with a wrench for assembling and demoulding, and the lower end of one of the two spreader legs is horizontally fixed - the shaft of the embedded touch car, and the other spreader leg. The lower end is equipped with a flip-up assembly of the card-mounted touch tool car.
In addition, a rear support frame and a side support frame are respectively fixed on the two vertical rails, and the other ends of the rear support frame and the side support frame are respectively fixed on the main beam: the spreader legs are vertically moved up and down on the vertical rails What passes is the three-position guide wheel fixed on the top and the position of the wrench beam; the wrench is driven by a hydraulic motor, and the flip assembly is a hydraulic cylinder-driven clamping fixture fixed at the lower end of the spreader leg .