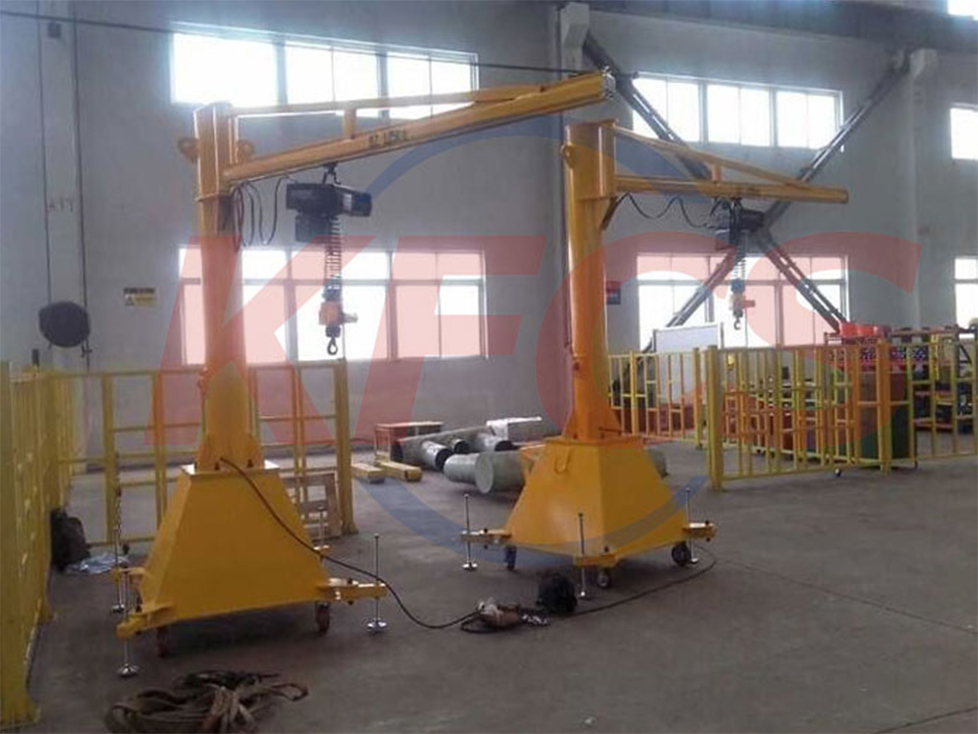 Free standing jib is the most widely used lifting equipment in today's production, what are the advantages of fixed-pillar jib crane, it is highly reliable, suitable for short-distance frequent lifting tasks, flexible operation, greatly improving efficiency.
The column type jib crane has many specifications and a complete series, with a lifting capacity of 250kg-5000kg, a jib length of up to 6m and a rotation angle of 360 degrees. Adopting European-style processing technology, it has simple structure, convenient operation, flexible rotation and large operating range, and is suitable for use in fixed places such as docks, warehouses and workshops.
Composition of column jib crane: It consists of column structure, jib structure, rotating mechanism, power distribution system and hoisting mechanism.
Our Free Standing Jib Cranes are ideal for heavy duty, high productivity applications and are our most versatile cranes. They are perfect to place underneath large bridge cranes, in open areas where they can serve several work stations, in outdoor applications such as loading docks, or in machining and assembly operations where they can be overlapped with other jibs to provide staged operation.
Our boxed style head assembly allows for installation of the head prior to the boom, reducing required installation clearances and allowing maximum hoist lift. It also increases stability versus common sleeve-over-pipe designs resulting in less deflection. Precision tapered roller bearings provide smooth operation and long life. Full supporting triangular baseplate gussets are used in lieu of struts to minimize deflection as well. Cranes come with bolted movable trolley stops to limit trolley travel.
Free Standing Jib Cranes are pre-engineered for use with powered hoists. A factor of 15% of the jib crane capacity is allowed for the hoist and trolley weight with an additional 25% of the capacity allowed for impact, thus giving full rated capacity use of the jib.
Large baseplate and special chemical anchors (included with the jib) allow our jib it to no longer need a foundation. Templates and hoist trolley are not included.