Mobile gantry cranes can be applied for all markets and are especially designed for mobile applications.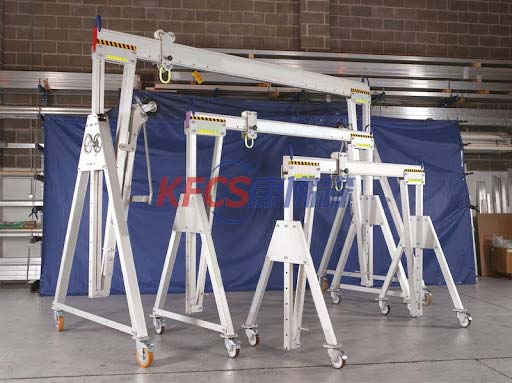 These portable gantry cranes can easily be moved around controlled environments, due to their electric or hovercraft wheels. It perfectly suits situations were permanent construction are not desired or possible.
Depending on the load weight movement of the gantry crane while loaded is possible.
Gantry cranes can be delivered in various options:
Aluminum gantry frame: Perfectly suited for solutions with even more mobile flexibility due to its light weight frame. Easy handling and (diss)assembly for use elsewhere
Steel gantry frame: Perfect suited for heavier weights and a more robust frame
Optional anti-static wheel contact surface
Various wheel options
Brakes
Rotation locks
Foot protectors
Optional electrical package
Optional remote control
Optional height adjustment solutions
Specifications
EC European standards
Up to WLL 3.000 kg
Cleanroom Cranes belt hoist
Span and height by design
Lifting height depending on WLL and hoist. Up to approximately 4 meters
Which gantry crane should you choose?
That depends entirely on your demands and the product you work with. Request more information and take us along in the process. We provide tailor-made advice without obligations.
Service
The after-sales department of Cleanroom Cranes provides reliable service worldwide.
Delivery of all required spare parts for both preventative and corrective maintenance.
Development of a suitable maintenance & inspection program according the local and international regulations.
Development of a proper maintenance & inspection program including the stock of operational spare-parts will prevent unexpected downtime of the crane.